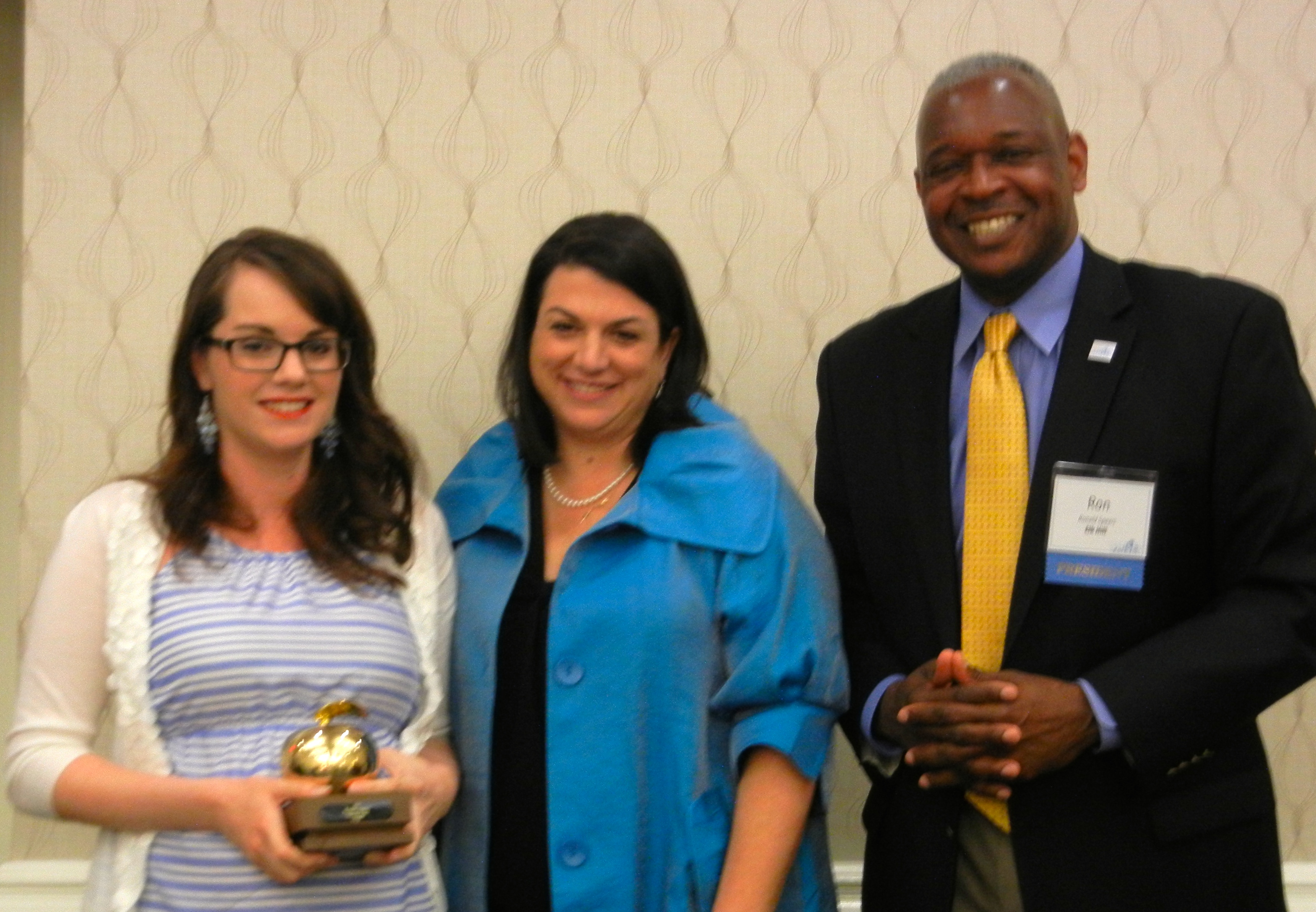 At the VAISEF 2014 Spring Conference, Melissa Shuler of Rivermont School – Fredericksburg, was award the 2014 Margaret Shepherd Teaching Award. Below is her letter of nomination by Rivermont School Principal Jenny Oxendine.
As I reviewed the teacher characteristics of a Margaret Shepherd Teacher Award Nominee, one outstanding teacher came to mind meeting or even exceeding each descriptive bullet. This teacher represents the epitome of commitment and flexibility. In addition, she demands rigor in both academic and social performance. Understanding the importance of building a trusting relationship, she is the natural spokesperson of positive behavior supports within our school. Finally, this nominee is a consummate team player promoting success for all students and staff members.
Within the first few minutes of a potential student's IEP, this teacher has made a personal connection with the student and his family. Her innate gift of relationship building enables the student's support system to quickly recognize her commitment. She puts hours into her lesson planning, as she knows that many of our students have given up on the lessons within traditional textbooks. For instance, when she presents an 11th grade English standard, she will dig deep for content that touches individual students. One of her students had given up on school and was at-risk of quitting altogether. Through conversation and interest interviews, she knew that becoming a firefighter was the one dream onto which he held. She created his academic curriculum around this interest and he is thriving today, becoming a member of the volunteer fire department due to her commitment to his success.
Another example of her commitment and flexibility was evident during an unannounced visit to her classroom. She was presenting a geometry lesson, and the students looked confused and frustrated. She quickly modified her lesson, bringing the students to the floor in the front of the classroom with a roll of masking tape. She provided a kinesthetic learning experience using the tape to form angles on the floor and the students were able to grasp the original concept. The students are confident of her belief in them and consequently, they have increased positive behaviors during instruction. Due to the respect she has gained from her students, she is able motivate them to reach their greatest level of academic rigor. Last year, two students who had failed in every other setting, were able to earn their high school diplomas with her specialized support.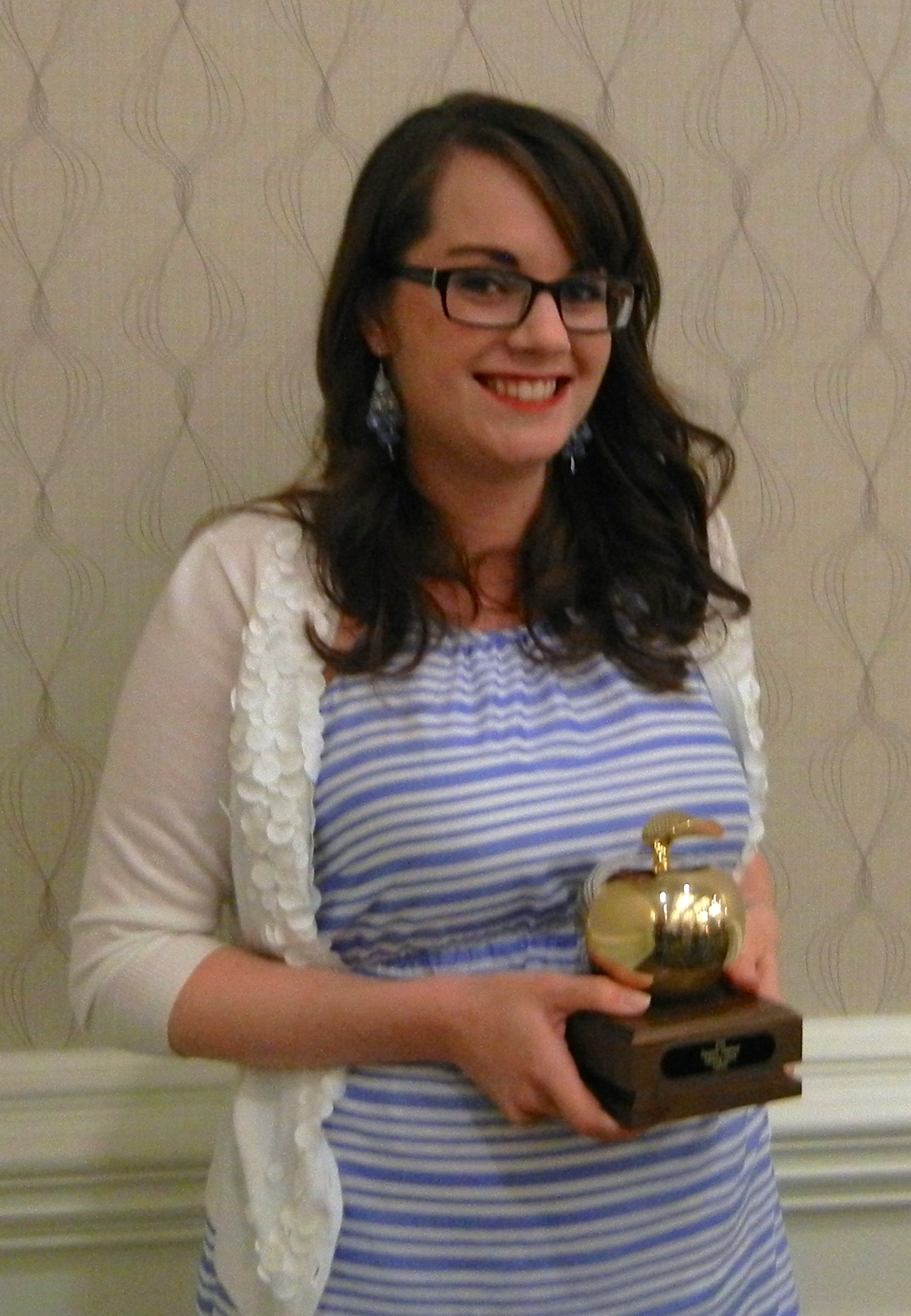 Though her students enter her classroom with a plethora of needs and an extensive history of maladaptive behaviors, she rapidly promotes the increase of positive behaviors through her consistent and individualized classroom management system. When a student earns the highest behavioral level in her classroom, he is allowed to participate in a bi-weekly service project at a local church serving food to the community's needy. This experience has promoted self-esteem, community awareness, and friendship. Another earned social opportunity is having a lunch out in the community with peers and staff. Though students participate in daily social skills lessons, these earned social situations raise the awareness that being in a healthy peer relationship is a responsibility that reaps rewards. This teacher does an outstanding job pre-teaching social behaviors. She models appropriate behavior and expects them to mimic her teachings. Though, she has high expectations, she also recognizes the limits of each student. For instance, rather than nagging a student for their lack of focus or inability to remain still during instruction, she meets them where they are. She has brought two rocking chairs into the classroom for students who have difficulty remaining still and rotates them according to need and behavior level. Students are able to move within their area during independent work as long as they do not take advantage of her flexibility. With her extensive bank of accommodations, she has only provided the support of two therapeutic holds during the last year and a half. These same students required more interventions in prior settings, but due to her effective prevention strategies, more restrictive supports are no longer required.
In conclusion, though this nominee is one of the newer staff members to the teaching profession, she has earned the respect of her more experienced peers. Due to the extensive time she gives to planning engaging lessons, she comes across engaging instructional strategies, including technology and kinesthetic opportunities. She readily shares these resources with any interested staff member. If she sees that a staff member is struggling with a student, she will quickly step in and ask if her help is needed. Our staff welcomes her support, as her knack for building trust spills into other classrooms. In addition to her engaging lessons and behavioral success throughout the school, she has also become the "go-to" teacher for reviewing present levels of performance for new teachers. She is able to capture the complete picture of the students within her student summaries. Currently, there is a waiting list for a seat in her classroom, as community stakeholders have also recognized her passion of the teaching profession. This outstanding teacher is a one in a million educator and deserves my highest recommendation for the Margaret Shepard Teaching Award.