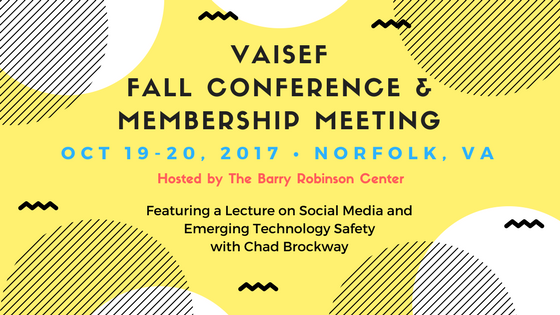 VAISEF will host its 2017 Fall Conference and Semi-Annual Membership Meeting on October 19-20 at The Barry Robinson Center in Norfolk, Virginia. Read below for more details on the conference programming and logistics. If you need overnight accommodations in Norfolk, please
book your room
at the Norfolk Marriott today! VAISEF has a limited number of rooms available on a first come, first serve basis.
NEW INFO: Thursday Dinner Details
We will be dining at
The Big Easy
 on Thursday night at 7 PM. VAISEF has arranged a fixed price menu with multiple options for meal selections. If you have signed up to attend dinner, you may bring a check payable to VAISEF or pay VAISEF by credit card.
The total cost per person (including food, taxes, and gratuity) is $55
. Alcohol may be purchased by cash bar/separate checks at the restaurant.
CONFERENCE PROGRAMMING
Chad Brockway, a career security expert, will be lecturing on social media and emerging technology safety. Mr. Brockway comes from an extensive background in intelligence, counterintelligence, counter-terrorism and federal law enforcement; all of which has been primarily focused on emerging technology and cyber operations. His posts have included work in the Marine Corps White House Liaison Office, the Dept. of Defense Law Enforcement Watch Center, the FBI's Special Technologies and Applications Section, and is currently working in a private cyber operations firm focusing on crime analytics. His lecture will cover the following topics:
Social Media
regulated and unregulated sites
adding unknown people to your social environments
real vs online identities
how kids are targeted
online persona's
anonymity in technology (or lack of)
how online actions are tracked back to people
unintentional bullying or hurt feelings
cyber bullying laws
child identity theft
Technology Use
email, texting, sexting
child pornography
webpage usage and e-commerce
usage and terms agreement
cyber predators
peer manipulation
parental rights
This lecture has been generously sponsored by The Matthews Center.

CONFERENCE SCHEDULE
All events to be held on The Barry Robinson Center campus except Thursday's dinner. Click here for directions.
Thursday, October 19
VAISEF Committees and Board Meetings (see specific schedule below)
3:00 PM – Tours of The Barry Robinson Center
7:00 PM – Group Dinner (restaurant and meal pricing being finalized)
Friday, October 20
8:00 AM – Registration and Breakfast
9:00 AM – Lecture on Social Media and Technology Safety
12:00 PM – Lunch Provided by The Barry Robinson Center
1:00 PM – Semi-Annual Membership Meeting (see meeting content below)
3:00 PM – Adjournment
COMMITTEE AND BOARD MEETINGS
Several VAISEF Committees and the Board of Directors will meet on Thursday, October 19. These are open only to members of such committees. Locations will be communicated directly to members.
1:00 PM – Accreditation Committee
2:00 PM – Membership Services Committee
3:00 PM – Insurance Subcommittee
4:00 PM – Board of Directors
SEMI-ANNUAL MEMBERSHIP MEETING
VAISEF will host its fall semi-annual membership meeting on Friday, October 20 after lunch hosted by The Barry Robinson Center. On the proposed agenda for the meeting are:
Presentation of New Members, New Accreditations, and Reaccreditations
Membership Consideration of Changes to the VAISEF Standards of Accreditation
Update from the Virginia Department of Education
Presentation of the 2017 Partlow Best Practices Award
Update from VAISEF Committee Chairs on Association Activities
Government Affairs Update and Discussion
More information about the proposed changes to the VAISEF Standards of Accreditation has been communicated to members by email. Please email us if you have any questions.
HOTEL ACCOMMODATIONS
VAISEF has secured a block of hotel rooms at the downtown Norfolk Waterside Marriott for the night of October 19 at a room rate of $136.00 (includes self-parking plus applicable room taxes). Reservations may be made by calling the hotel at 1-800-874-0264 and referencing VAISEF for our group rate. You may also make reservations via this special reservation link.
There is a limited number of rooms in the block, so please make your reservations as soon as possible and no later than October 5, 2017.
CANCELLATION / REFUND POLICY
Any registration cancellation / refund requests made by 1:00 PM on October 18, 2016 will be refunded the full registration fee.
No refunds will be made for cancellations after 1:00 PM on October 18, 2016.
Registrations may be transferred to another individual if you cannot attend.
Please email or call (804-332-1794) Matthew Stanley in the VAISEF office with any questions about the conference.