The Commonwealth of Virginia's Board of Education is charged with the responsibility of providing oversight to the various systems of education, which exist throughout the Commonwealth. One of its major functions is to ensure that a quality education is given to all Virginians required to attend school – whether they are enrolled in a public or private education facility.
Virginia's legal code 8VAC20-131-10 et. seq. requires that public schools adhere to certain "standards of quality" and regulations for specific learning in order to be "accredited" as public educational institutions. To ensure defined standards of quality are in place for non-public schools, the Board of Education has granted the Virginia Council for Private Education (VCPE) with the authority to oversee the accreditation process of private schools in Virginia. The 2000 General Assembly passed language granting oversight of nonpublic school accreditation to VCPE in §22.1-19 of the Code of Virginia.
What is State Recognized Accreditation?
The Virginia Council for Private Education (VCPE) oversees accreditation of nonpublic preschool, elementary, and secondary schools in the Commonwealth as authorized by the Virginia Board of Education in §22.1-19 of the Code of Virginia. State recognized accreditation comes through accreditation granted by any VCPE Approved Accrediting Member (in this case, VAISEF).
All approved accrediting organizations must meet the VCPE core set of standards. The VCPE peer review process and an annual reporting requirement have been developed to monitor the standards. Each accrediting association has standards that meet and exceed those that are monitored by VCPE and must be considered individually by an interested school.
VAISEF & Accreditation
For a private school to be accredited it must undergo a rigorous accreditation review by a recognized VCPE member association whose Standards of Accreditation and review process have been approved by the VCPE Board. As such an association, the Virginia Association of Independent Specialized Education Facilities (VAISEF) accredits private special education programs which are regulated by the Virginia Department of Education and provide educational programs and related services to students who need individualized education plans and/or address other conditions which may cause students to be "at risk" in traditional school settings.
This VAISEF function is carried out by the association's Accreditation Committee, which has the responsibility of ensuring that each "accredited" VAISEF facility is providing a level of excellence in their programs and services. The accreditation process is guided by a series of standards and modules that serve as "indicators" of educational excellence.
Why Seek Accreditation?
State recognized accreditation is accountability for private schools in Virginia. Many private schools in Virginia seek accreditation as a means of strengthening their programs and facilities and assuring the public that the published purpose and philosophy of a school are being fulfilled.
Accreditation through a VCPE Approved Accrediting Member guarantees the transfer of student credits from the state recognized accredited private school to a public school and ensures recognition of teacher licensure credits for time served in an accredited private school.
In summary, following are some benefits of accreditation:
Documents that the school is true to its own foundational statements (mission, philosophy, and goals).
Affirms that the school meets standards of quality and accountability established by the association.
Provides validation of the credibility of the school/program through a peer review process.
Promotes accountability to the school community and impacts parental contentment.
Promotes on-going institutional improvement through a continuous process of self-assessment and systematic school/program development.
Guarantees the transfer of credits between nonpublic and public schools.
Provides a complete review and written documentation of school program.
Gives purpose and direction for long-range strategic planning.
Requirement for Accurate Representation of a School's Accreditation Status and Relationship with VCPE and the Virginia Department of Education
Each association and school as part of the Virginia Council for Private Education (VCPE) is required to represent its affiliation or accreditation status within the State of Virginia clearly and accurately.
The model to be used by schools accredited by a VCPE approved accreditation process:
(School's Name) is accredited by (VAISEF), whose accreditation process has been approved by the Virginia Council for Private Education as authorized by the Virginia State Board of Education.
Any school affiliated with VAISEF that is not fully accredited, may not use any VCPE statements regarding accreditation.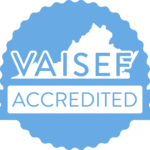 Accredited VAISEF schools may use the "VAISEF Accredited" seal on their website or promotional materials: